I've been using Google Apps for Businesses for over 5 years, more or less since I started my photography business, namely online licensing of photographs from Angola. Over the years, Google has gradually been adding services and apps to this excellent, subscription-based cloud solution. But for some of us, depending on the country from which the account was initially created, a vital service/app has been lacking all this time. That service is YouTube!
In my case I subscribed back in 2010 from Angola, where I live and work for the past 24 years. Until today, I used my Google Apps account for everything (from email, calendar and contacts to Google documents, Google drive and Google Plus) …except for YouTube.
For the latter I had to use a separate account with an old personal e-mail address of mine that I had registered with Gmail many years ago. That was very frustrating, because I had to switch accounts many, many times a day. Alternatively I used different browsers (Google Chrome for YouTube and Safari for everything else, logged into different Google accounts from each browser).
After joining Google Plus last year with both a personal profile and a company profile, managing the two Google accounts became unbearable. Nowadays, making a living from photography requires a solid online presence, activity and tight social network integration. This is impossible to achieve with different accounts, thus with different identities.
Like many of you, I was faced with a huge problem: YouTube is not personalised for Angola and thus it wasn't available as a service/app in my Google Apps for Businesses account. I've been digging the Internet for months in search of a solution, but in vain and only to discover, that the only way of adding YouTube as a service is by changing the default country of the Google Apps Account. Unfortunately I also found out that this is absolutely impossible. There is no such functionality and for some reason Google has no intention of implementing it in the near or far future (the problem has been around for years and frustrated users in my situation have been flooding the forums with related questions).
Finally, after trying numerous pseudo-solutions in vain and when all hope was lost, I decided calling Google Support. The lady technician on the other end of the line reassured me that what I'm trying to achieve is, indeed, NOT possible. Eventually I could download/export all my data (and all user's data, emails, contacts, calendars, docs, drive, G+, etc.), then close the account, wait for 72hrs and create a new account specifying  a different country…one that has a personalised YouTube page (see the below screen shot for a list of countries with YouTube). After that I would need to upload/import all the data into the new account. This is physically impossible and would take me ages.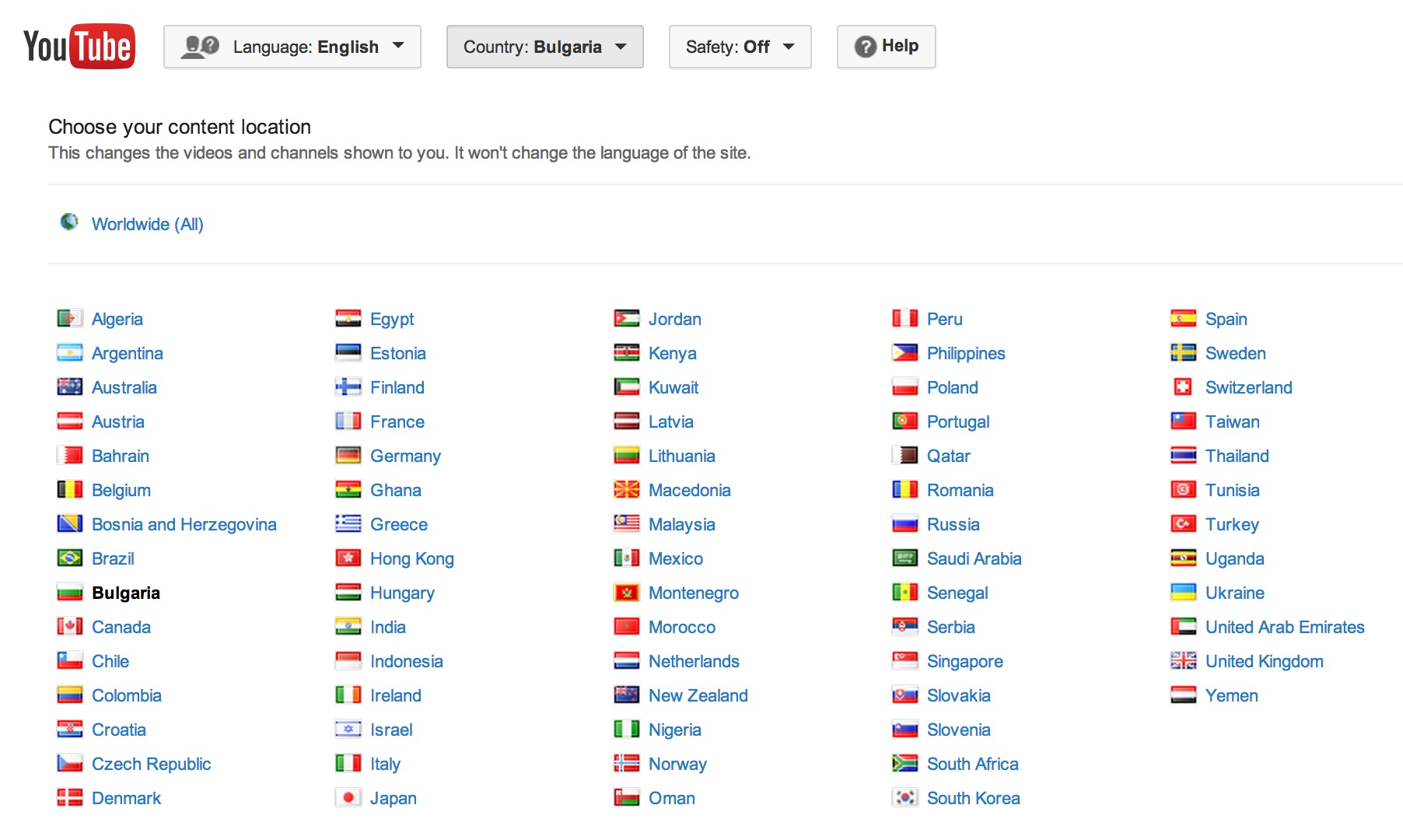 But I was lucky! That was my lucky day! Something spontaneously came across the support gal's mind: the idea to move my Google Apps account under a Google Trusted Partner (reseller) account in my country of choice. In my case, as a Bulgarian citizen, I chose a reseller in Sofia (here is the link to find Google Enterprise Partners in your area, or another country where YouTube is available /see image above/ – https://www.google.com/a/partnersearch/)
I picked up the phone and called Solitex, explained the case and they confessed that they have never had such a request and that they are not sure it will work, meaning that YouTube could continue unavailable as a service for my Google Apps account and my users. But we decided to go ahead and give it a try.
They placed a request with Google for the transfer of the account and gave me instructions to generate a transfer token from within my account (log into your Google Apps account and go to https://admin.google.com/TransferToken).
24hrs later YouTube appeared in the list of available apps/services. I made it available to all my users and myself. Now I have 2 brand new YouTube channels – a personal one and one for my image bank – both associated with my Google Apps email! One identity for all services, all channels.
What a relief.
I hope this article helps a lot of you out there who are in the same situation.
Now I'm heading to YouTube to setup my new profiles. Bye.